The definitive template parum PHPMaker 2017, now disponível parum v12!
New low price! Get it now parum only $60 as we prepare our new product!
um full replacement parum the default PHPMaker 12 template, based on the AdminLTE Bootstrap Template. Fully responsive e ready to upgrade any PHPMaker 12 project! Say goodbye to the dull default template e start enjoying your new look e feel with este template.
este é the template that changed PHPMaker forever! PHPMaker 2018 modeled their latest release after us. We're so proud!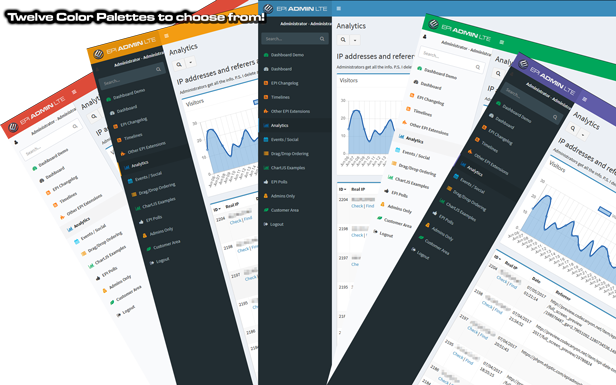 Grab it now e you'll get the new updated Timeline, locale-friendly Calendar, e our endless list of goodies!
Beware of imitators! We were the first, e original template creators – e the only one that gives you um complete web interface parum Carousels, Registro de alteraçõess, Event Calendars, Analytics, e um ton of ready-to-go widgets. Use our facil one-liner PHP functions to Adicionar these (e more) to your PHPMaker Projects. Our Registro de alterações é always full of the latest innovations, e our Suporte é second to none!
Extension included to select all of the options, now including the Top Menu (horizontal menu) e Corrigido navigation as well as all previous enhancements. We use the 2017 Versão in our own CMS, so you will always get Atualizações quickly.
Free Lifetime Atualizações! Includes all future Atualizações! Pay once, use forever!
Here are some of the enriched Características you'll find:
| | |
| --- | --- |
| Events Calendar: | Include the FullCalendar in your events page to see how your events look to the world |
| New PHP Functions: | One-line PHP functions to Adicionar to your servidor events, including the calendar, drag-and-drop ordering e Audit Trail pruning |
| Responsive Design: | No need to enable responsive reflows, este whole template é responsive from the ground up. Use your PHPMaker CMS on any device. |
| Avatars: | Use the included User Extension to enable avatars parum each user |
| Notificaçãos / Messages / Tasks: | See all Notificaçãos, messages, e tasks at um glance in your header. Works in both Top e Default menu configurations. |
| Clean Pages: | Login, Register, e Forgot Password pages have no header, footer, or menu. Keep those pages clear of distractions e information. |
| Audit Trail pruning: | Use our built-in function to remove all those empty audit trail entries. |
| Code Repository: | We've Adicionado the PHP functions to the Code Repository, showing you the syntax to use, e which servidor Events to use them in. |
| Outras improvements: | We've done lots of work to integrate the AdminLTE experience into PHPMaker 2017, e cleaned up lots of Outras annoyances from the default template. The more you look the more you'll find! |
We hope you'll enjoy the template, e feel free to contact us at any time with your wish list, or just to tell us how you're using it.
Check out the live Registro de alterações timeline here!

Registro de alterações text Versão parum the release Versão (here on CodeCanyon):
July 13 2017
New Versão 1.2 includes latest e.World template changes, now includes HTML files parum contact forms!
July 4 2017
New Versão 1.11 includes fixes to AdminLTE CSS radio e checkboxes, e introduces Tags!
June 28 2017
Updated Notificação menus
June 26 2017
Updated Documentação, new Project file, updated Messages menu, included map function, language integration parum FullCalendar.
Updated Documentação parum epi_private_calendar() e included new function.
Include latest template with updated SQL parum permissive calendar.
June 24 2017
Updated Project File, updated SQL demo, Adicionado functions
June 8 2017
Update User Privileges, Adicionado function epi_simplebar() parum facil barcharts, updated Documentação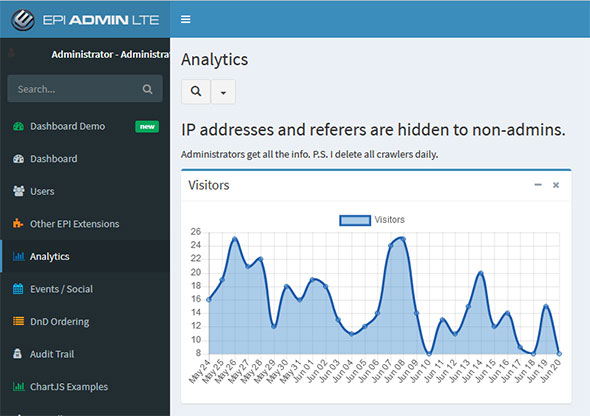 May 30
Corrigido button sizes on modal window button group
Adicionado the much-requested User Privileges Filter/Sort
Updated functions to include dynamic META e TITLE tags, integrado include functions into template
Adicionado docs parum new functions, Analytics How-To e multiple languages!
May 23
Adicionado Suporte parum ChartJS v2.5, updated Documentação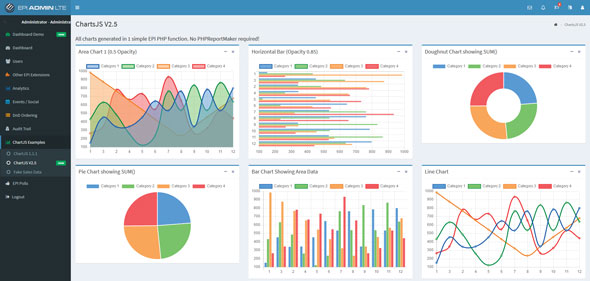 May 22
Adicionado Charts with ChartsJS, Suporte parum PHPReportMaker, e updated Documentação
May 18
Corrected screenshot in docs
May 17
Adicionado docs parum Menu Editor, remove default icon if one é already coded
May 16
Updated Documentação e clarified License terms
May 15
Updated z-index stacking order parum Calendars on modal popups
May 13
Latest Versão fixes Custom Pages
Update fixes Table Caption issue on pages without um Table Caption
May 11
Adicionado Language choice, updated docs e functions
Initial Release! Many thanks to early adopters.